HOW PROCESS DATA SHOULD BE PROVIDED FOR A BOILER/HRSG
You may be in the process of purchasing a boiler or HRSG. Ensure that thermal or process data and mechanical data are made available as a minimum as shown below (or in sellers format with all the data shown here) AT THE PROPOSAL STAGE ITSELF so that you can understand how the energy distribution takes place section wise and also what the geometry data is for each section starting from the hot gas inlet end to boiler exit end. In many cases such data are, unfortunately, not provided(and you are buying an equipment worth Millions of dollars!),which may lead to difficulties in evaluating or understanding the HRSG/boiler performance later. Such data should be given at all important loads including part load and guarantee point. AS A BUYER ENSURE THIS AS A MINIMUM while reviewing the proposal.
This example below is a simple HRSG for an incineration project at 100% load(there is no economizer).The screen section shields the superheaters from external radiation. Exit gas temperature desired is around 650 F. If you are dealing with a steam generator, then you would start with the furnace and proceed with various surfaces as shown below. For a fire tube boiler,the data is simpler as we have just the evaporator tubes unless an economizer or superheater is included. This is just to give an idea only.
HRSG THERMAL /PROCESS DATA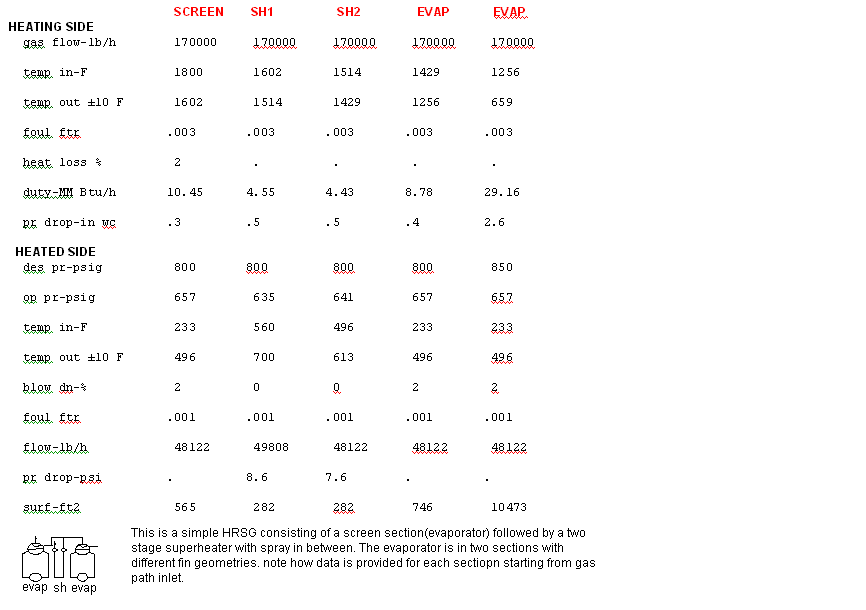 [flue gas analysis is: % volume CO2=7,H2O=12,N2=75 and O2=6]
MECHANICAL /GEOMETRICAL DATA FOR EACH HEAT TRANSFER SURFACE FROM HOT GAS INLET END TO EXIT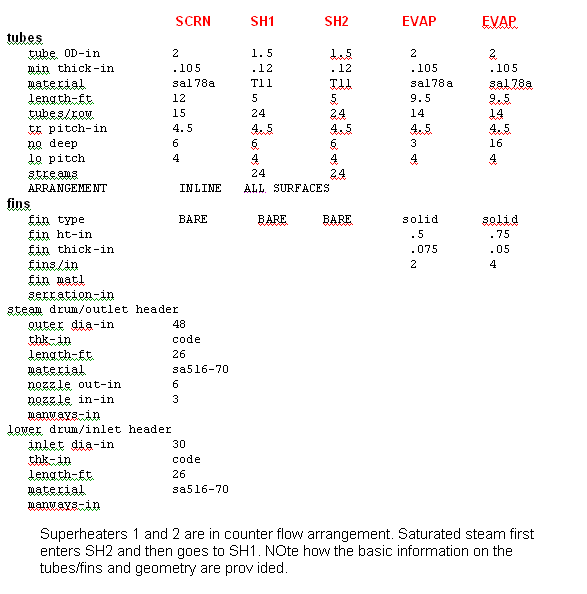 WHILE THESE MAY APPEAR TO BE BASIC INFORMATION, NOT MANY SUPPLIERS PROVIDE THIS UNLESS ASKED FOR AT THE PROPOSAL STAGE or EVEN AFTER PLACING THE ORDER. SO AS A BUYER, ASK FOR THESE DATA. THESE BASIC DATA WILL HELP YOU IN THE LONG RUN.